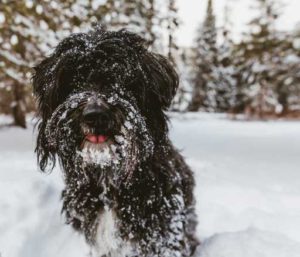 As the cold months grace us with their presence, it is important to be well informed, so we are able to keep our furry friends safe from possible dangers. We love our pets, and although they may love to frolic in the snow or venture outside with the kids, it may not be the smartest decision for their health!
As temperatures drop and snow falls, be aware that sidewalks and driveways may become slippery. Avoid frozen ponds and pools, as this could result in your pet falling through into the icy waters. If in doubt whether or not the surface is safe to walk on, choose another path! Not only is it important to be aware of ice and snow, but it is also helpful to keep your pet close using a leash and/or harness. When temperatures drop into the teens, it may be worth purchasing a sweater or coat for your pet. This will help insulate heat for warmth during walks and bathroom stops. Pets can also benefit from booties on their feet when outside, to avoid stinging from the cold or irritation from salts and other chemicals on the ground.
Activities such as transporting your pet to and from a relative's house or the dog park should be kept to a minimum, and with extremely cold weather, it should be avoided. Like humans, animals like dogs and cats are susceptible to conditions brought on by the cold temperatures, such as hypothermia and frostbite. Various health conditions, including diabetes and heart disease, can inhibit animals from safely regulating their body temperature, which affects their tolerance to the cold. We don't want to be standing outside freezing; neither do your pets!
Check the hood of your car and underneath as well, especially if your car is running or has just been running. Cats love to curl up underneath, in, or around a warm vehicle. To avoid a terrible situation, open your eyes and stay alert! Honk your horn or bang on the hood of the car to see if a visitor has made its way inside.
Snuggle your pet inside your nice warm home a little extra during the winter season! Pets should have a warm place to sleep and should be brought into the house or a well-insulated and sheltered run to avoid health complications inflicted by the cold weather.
Lastly, be prepared for extreme weather conditions, which may affect your ability to go about your daily routine. Always keep plenty of food and water available in the house. If your pet takes medications or has a specific treatment to be done daily, make sure you are prepared to properly and safely care for your pet, despite the weather outside. Stay punctual on pet wellness check-ups and vaccinations at your veterinarian in Philadelphia! Even with the chaos and stress the holiday season brings, it is important to make sure your pet is well cared for and healthy!